I wouldn't consider myself a Taylor Swift fan but I enjoy her songs when they are being played on the radio and her current song "Shake it off" is really catchy. So when I first saw this tag on PEACE☮lOVE♥BOOKS' blog, I thought it was a cute and fun idea. The tag was created by theBooklife.
1. "We Are Never Ever Getting Back Together"
Pick a book or book series that you were pretty sure you were in love with, but then wanted to break up with.
The Book Thief by Markus Zusak – I loved the idea of the book, I loved Death, I loved the beginning. But then I did not get into the book. It bored me to no end and for some reason I knew exactly what was going to happen. It was just "okay" for me.
2. "Red"
Pick a book with a RED cover.
Kreis der Dämmerung by Ralf Isau – Awesome book especially for middle grade.
3. "The Best Day"
Pick a book that makes you feel nostalgic.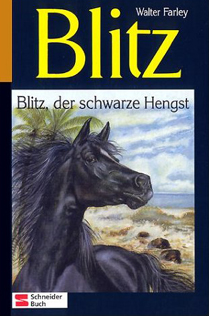 The Black Stallion by Walter Farley – This book stirs up some of my favorite childhood memories.
4. "Love Story"
Pick a book with forbidden love.
Daughter of Smoke and Bone by Laini Taylor – Most beautiful forbidden love story.
5. "I Knew You Were Trouble"
Pick a book with a bad character you couldn't help but love.
Shadow and Bone by Leigh Bardugo – The Darkling found his way in my heart.
6. "Innocent"
Pick a book that someone ruined the ending for.
Allegiant by Veronica Roth – I was not exactly spoiled but by the reaction of many readers I had an idea what was going to happen.
7. "Everything has changed"
Pick a character from a book who goes through extensive character development.
Mary and Pippin from the Lord of the Rings by J. R. R. Tolkin – They grow and change so much during the three books. Mary and Pippin's character developments make absolute sense to me.
8. "You Belong With Me"
Pick your most anticipated book release.
The Doors of Stone by Patrick Rothfuss – I want that book in my hands so badly but I don't see that happen anytime soon….
9. "Forever and Always"
Pick your favorite book couple.
Cinder and Kai from Cinder by Marissa Meyer – I especially loved the beginning before any of the problems began.
10. "Come Back, Be Here"
Pick the book you would least like to lend out, for fear of missing it too much.
Harry Potter by Joanne K. Rowling – Especially my new paperbacks.
11. "Teardrops On My Guitar"
Pick a book that made you cry a lot.
The Kite Runner by Khaled Hosseini – Tears and tears and tears.
12. "Shake It Off"
Pick a book that you love so much, you just shake off the haters.
Pawn by Aimee Carter – I know quite a lot of readers didn't enjoy this book or said it was like any other dystopian book but I loved it. It took me by surprise so many times and I can't wait for the next book to come out soon.
Agree? Disagree? What would your answers be?